COOKIES: This site uses session cookies to track your movements within the store purely in order to operate the shopping cart and your account details, etc. No tracking or personal identity information is stored regarding your non-Heresy internet usage. By using this site, you agree to allow the use of cookies during your session here

.
For more information, click here. or read the Privacy page.
SECURITY CERTIFICATE: Please create a customer account and/or Log In to activate the https:// version of this site!
You will see the padlock security symbol in the address bar of your browser when you are on the Shopping Cart/Checkout pages!
---

Important: BREXIT vs EU customers
This is the last chance to avoid ANY kind of fees or import duties for EU customer until such time as the UK rejoins the Customs Union that we are now leaving on December 31st 2020 (unless something changes in the meantime which is highly unlikely). You MUST order from the UK before this date to qualify for VAT and customs duty exemption, but bear in mind I'll be closed over Christmas and New Year so really it needs to be by December 16th so I can ship them in time - I'll be on holiday from December 18th 2020 until January 5th 2021!
CORONAVIRUS -
I am still shipping all orders, on Friday each week. Please get your order in by Thursday in case I need to cast stuff for it.

Please keep ordering! I am totally reliant on new orders to pay the bills. Why not buy a Gift Voucher to help me out and spend the funds later? That would be brilliant.

This Pandemic is UNPRECEDENTED. We all have to do our bit to save lives by altering our routines. Please be patient! I will be restricting the amount of days that I leave the house to go to the workshop, at the moment this will be one or two days a week. You will get a shipping notification when your order ships, check your junk folder.

Please note that as this global pandemic continues to interfere with the entire world's day to day systems, parcels already in the global delivery system may get delayed. Don't panic! They will turn up eventually, but you should expect everything around you to be affected somehow as workforces are told not to go to work.
PLEASE NOTE: I am temporarily out of 25mm Round plastic bases as the UK supplier is either closed down, moving warehouse to the EU or just ignoring emails, depending on who you talk to. Lot of us small indies left in the lurch,unable to get hold of fresh plastic bases! I will be putting 20mm round or 30mm Display style lipped bases in your orders if you ask for 25mm round until i can get some more. Apologies!
There's up to 20% off across the ranges this month!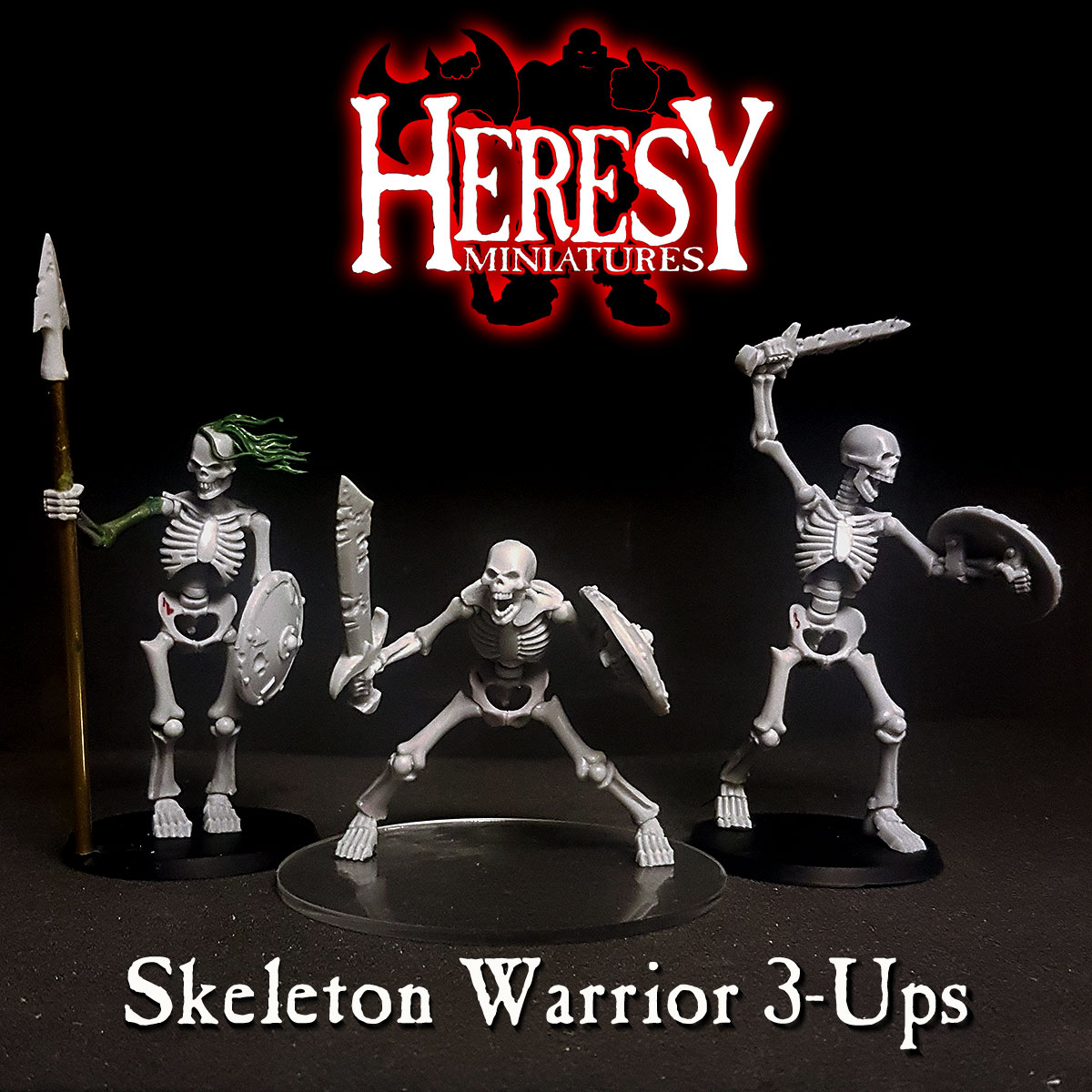 Kickstarter launching soon - make sure you're following Heresy on KS to get notified! This could be massive - will we get PLASTIC skeletons made?!
---

GET EVEN BIGGER DISCOUNTS VIA THE NEWSLETTER!

Did you miss the recent super-duper discount codes for newsletter subscribers? Don't miss the next ones!
---
Choose Your Own Adventure(rs)!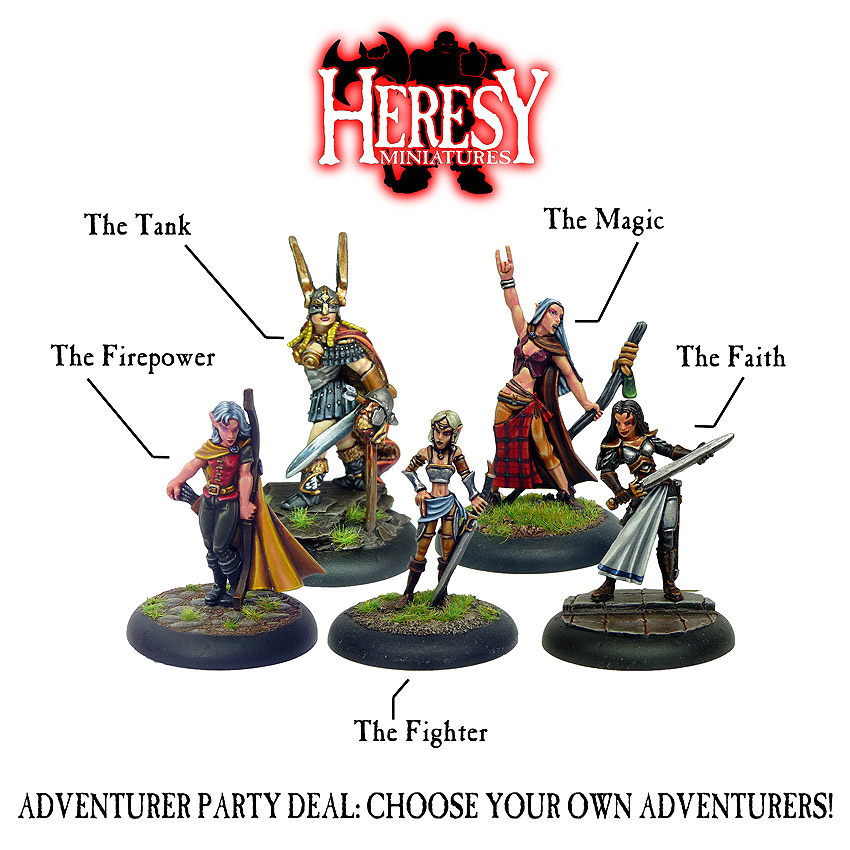 NEW - Adventurer Party Deal! Choose your own Party Of Five stalwart heroes and heroines to go dungeon crawling with! Click the pic for the details!
---
EU Customers vs Brexit
The UK will definitely now be leaving the EU at the end of DECEMBER 2020. Probbly crashing out with no deal so that multi-millionaire Disaster Capitalists can make even more millions out of the ensuing chaos. Hurray! The remainder of this year may be the last chance for EU customers to order from Heresy without possibly incurring import duties and tax, depending on what Customs arrangements are eventually made for the transition period and after, and what limits are set on import levels in the event of us crashing out. If it's anything like current arrangements with Australia, USA etc then most small boxed orders should avoid duties, etc, but we shall see. Best to order now to be safe!

Go! Go! Go! Take advantage of the UK's omnishambles to buy a few more precious models you thought would incur charges by now!

---